What is hosted telephony?
Quite simply, it's a revolutionary way of setting up a phone system for your business. It has significantly lower cost than a traditional physical telephone switch, with no loss of functionality.
Our telephony platform is based on the popular Asterisk software.
What can Asterisk do for your business?
With Asterisk in your network, you can 'do' telephony in all kinds of new ways, such as:
Connecting employees working from home to the office phone system over broadband connections. This enables remote users to have calls directly transferred to them as if they were working from their office.
Inter-connecting offices over the internet, allowing free calls between offices, and seamless call transfers. Simply dial the extension of the user in the other office.
Giving all employees voicemail, integrated with the web and email. This allows you to retrieve voicemail messages from a web interface or have them directly delivered to your email inbox.
Building interactive voice applications so you can have a single number for the entire business, and a 'Press 1 for Clapham, Press 2 for Croydon' type menu setup.
Giving access to the telephone system when travelling, directly from laptop computers using a soft phone application connecting from airport or hotel wireless hotspots, so you take your extension with you.
There are hundreds of other features, but you can almost guarantee that if you have a telephony requirement in mind, Asterisk can achieve it.
Our Asterisk servers are housed in a purpose-built data centre, with connectivity provided by a small, business-only internet service provider. The servers are on a tight 1 hour service agreement, with 24/7 technical support. For telephony, you and your business can't take any chances. That's why our servers are connected to the core of the ISP's network.
Pricing
Hosted telephony services cost from £15 per month. This includes the system rental, and a single configured SIP trunk. There are additional charges depending on your exact requirements.
Voice channels – equivalent to another physical telephone line – £3/month+VAT each
Geographic DDI numbers – like an 0208 or 01372 telephone number – £1/month+VAT each
0845 or 0844 type non-geographic numbers – £3/month+VAT each
Keeping your number
The vast majority of landline numbers can be ported into our system for as little as £25. That means you can keep the same number, while migrating to a state-of-the-art telephony solution.
Other requirements
Handsets
You will need a suitable VoIP handset to make calls. These cost from around £50. We recommend the Polycom SoundPoint range of handsets, with the VVX 401 for regular staff members, and VVX 450 for managerial or executive staff. Click here for more information on the Polycom range of IP handsets.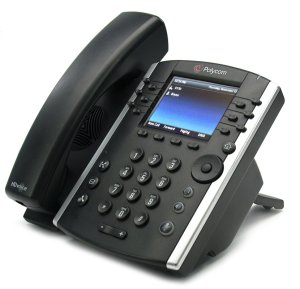 The Polycom VVX 401
Internet Connectivity
You will also need a suitable internet connection for VoIP calls. Your existing connection can be used, but call quality can suffer if you are downloading while making calls. That's why we recommend a separate internet line for VoIP use. If you do wish to use a single internet line, we recommend fitting a suitable QoS router that can dedicate a small proportion to your VoIP system, reducing the risk of poor call quality.
Get Started
Hosted telephony is a bespoke solution. Please click here to contact us, and discuss your requirements further. Otherwise, please call the sales team on 0800 7879 258.