Desktop IT Support
We support all widely used desktop operating systems including Microsoft Windows 7, 8, 10 and 11. Apple Mac OS and Linux are also supported where necessary.
Support is provided for all major software packages including Microsoft Office, iWork, Autodesk AutoCAD, Adobe CS, Sage Line 50 etc.
Desktop IT support is generally carried out by remote access. This negates the need for a site visit and reduces the amount we have to charge. However, if required we can happily carry this out at your chosen location.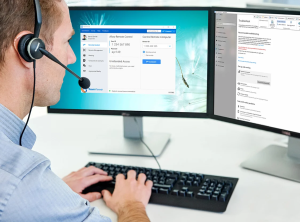 Software such as TeamViewer allows us to provide IT support instantly - wherever you are.
Most of our customers prefer an IT support contract, to fix their costs month to month. We do not insist on this however.
Please see our prices for current pay-as-you-go desktop IT support rates.
Contact us online or on 0800 7879 258 to find out more.